CLEAR Webinars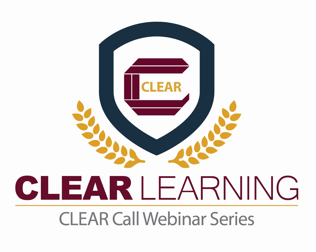 CLEAR Webinars are a series of one-hour presentations on topics of current interest to the regulatory community. Offerings are presented virtually, allowing attendees to participate and ask questions from their own office or conference room. Attendees receive a copy of the PowerPoint presentation after the webinar.
CLEAR Webinars are scheduled throughout the year and, when possible, at times that are convenient to our international audience throughout various time zones. Check the
Webinar Calendar
to see a listing of current offerings. We'll soon be announcing a "Best of Conference" webinar series - if you couldn't make it to Louisville or there were just too many great sessions to choose from, you'll be able to see what you missed.
With your registration fee, you may have up to 5 attendees logging in from separate computers.
Can't attend live? Register now for the event, and we'll send you a recording instead. Planning to attend live but you'd also like a copy of the recording afterwards? Webinar attendees can choose to purchase the webinar recording at a discounted rate when registering.
By registering for a CLEAR webinar, I understand that CLEAR will be recording this session and I consent to such a recording. Questions about session recordings can be directed to Stephanie Thompson at sthompson@clearhq.org or at webinars@clearhq.org.
Registration fees for the webinars are (US)$80 for members and (US)$100 for nonmembers.

Recordings of CLEAR Webinars are available for purchase. You'll receive online access to the recorded content, available for one year after date of purchase. Webinar recordings will be available in the
CLEAR Store
.