Board Member Training
Board and council members take on a great responsibility, and it is imperative they are equipped for their roles. CLEAR's Board Member Training programs offer three levels of training, education, and support to help ensure board and council members understand their role and are able to serve effectively in the public interest.
Level 1 - Prospective & Newly Elected/Appointed
This program is designed to provide prospective and newly elected or appointed regulatory board or council members with an introduction to the expectations and requirements of regulatory board leadership.
This program covers the four main aspects of being a regulatory leader: Regulation, Governance, Roles and Responsibilities, and Ethics.
Upon completion of this course, you will be able to:
Illustrate the difference between advocacy and regulation
Understand the legal ramifications of regulatory decisions
Define the roles of board members and staff
Identify roles and expectations of board members
Identify and process conflicts of interest
Understand the importance of confidentiality
The program is offered online as a self-paced course.
Level 2 - New to Board/Council Service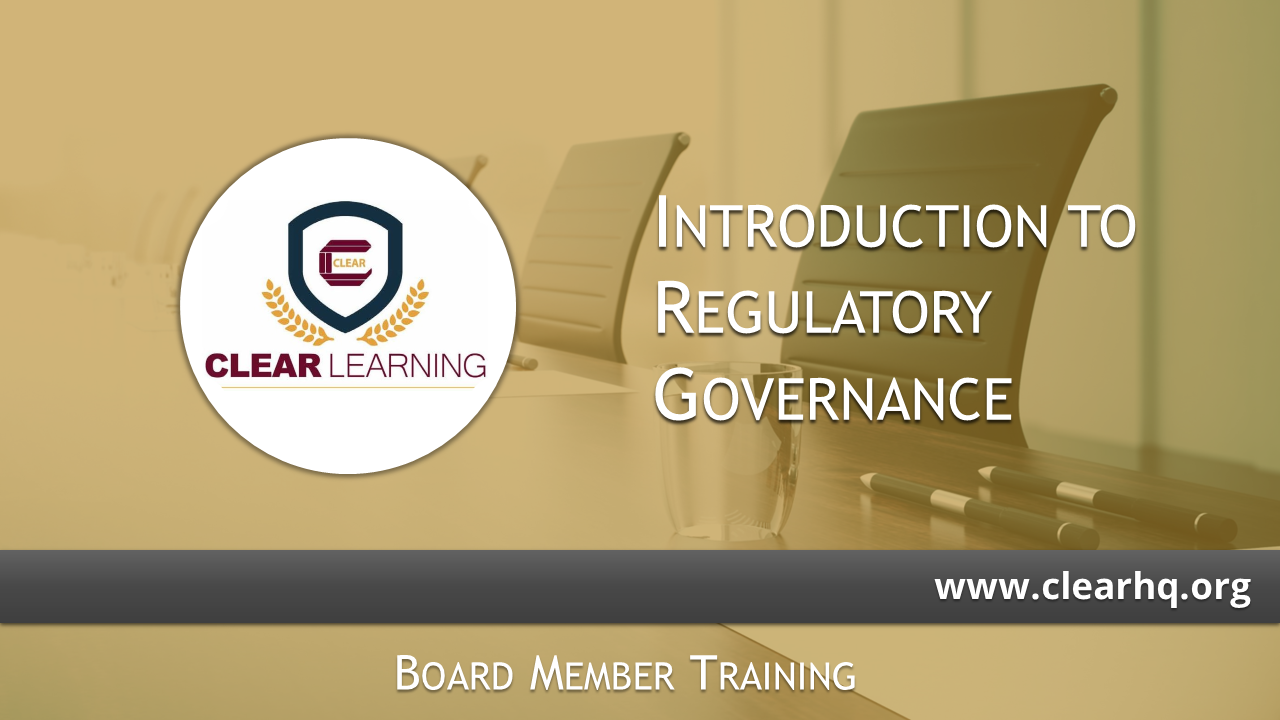 Click the image above to view the full course syllabus.
Designed for regulatory board/council members, CLEAR's Online Introduction to Regulatory Governance program provides accessible and affordable training that equips members for their important public service role. The curriculum features five modules:
Foundations of Occupational and Professional Regulation
Roles and Responsibilities of a Board Member
Administrative Rulemaking
Professional Discipline
Assessing Competence
CLEAR provides four methods of access for this program. Expand the sections below to learn more and purchase the method that works best for you and your organization.
The is a one-day instructor-led event where all five modules of the program are presented in an interactive and engaging environment.
To attend an in-person instructor-led training event you may select an event that CLEAR offers to the public, or you may sponsor an event.
The sponsoring organization pays a flat fee to cover all training materials; speakers' expenses are in addition.


The online, self-paced program allows users to log in to CLEAR's learning management system and complete the course at their own pace.
Once a subscription is purchased, learners are granted one year of unlimited access to the program. Access is granted through licenses to our online platform and requires a valid e-mail address.
CLEAR offers three packages for this course with member and non-member pricing
These three packages include licenses for:
Single license
Up to 10 licenses
Unlimited licenses
Licenses are valid for one year from the date of purchase.
CLEAR is pleased to offer the On-Demand Introduction to Regulatory Governance program. This platform combines the effectiveness of CLEAR's Introduction to Regulatory Governance with the convenience of on-demand videos.
The series is designed to prepare board and council members to:
Understand their role in promoting the public interest
Operate in line with key concepts in regulatory governance
Be effective rulemakers
Set appropriate standards for the assessment of initial and continuing competence
Effectively handle the various vehicles of disciplinary action
The video series is made up of the five modules from the Introduction to Regulatory Governance program. Copies of the printed materials for the program are available for purchase and include practice scenarios to help your Board or Council learn to apply the concepts presented.
Technical Needs
The series requires an internet connection with enough bandwidth for streaming videos. It is recommended that you test the videos prior to a group session to ensure that the computer, browser, and internet connection are sufficient for streaming.
Using the On-Demand Video Library
Upon receipt of payment, CLEAR will send a link to your agency's video library. Unlimited access to the videos will be available for one year.
CLEAR offers four packages for this course with member and non-member pricing
These four packages include licenses for:
A single board or council
2 - 5 boards or councils
6 - 10 boards or councils
Unlimited boards or councils
Licenses are valid for one year from the date of purchase.
CLEAR periodically offers a series of five live webinars of this program. Offerings are presented through web-based PowerPoint and audio. Attendees receive unlimited access to recordings of the webinars for 30 days immediately following the live event.
With your registration fee, you may have up to 5 attendees logging in from separate computers. Click the button below to view upcoming programs.
Level 3 - Experienced Board/Council Members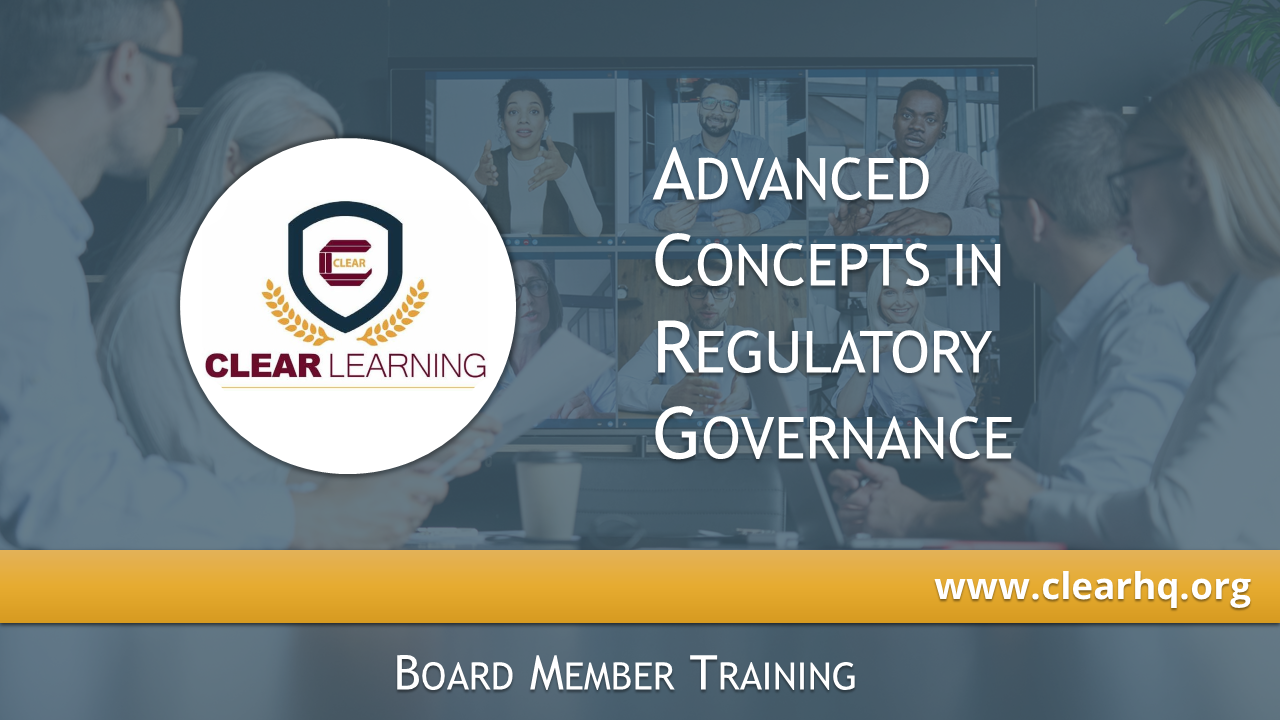 Click the image above to view the full course syllabus.
This two-day, in-person workshop is for seasoned regulatory board/council members and promotes strategies for dealing with specific challenges faced by board members.
Day One
The first day explores the concept of public interest, considers trends in profession-based regulation, while discussing trustworthiness; the importance of structure, process, and culture; avoiding governance pitfalls; and considers board members as leaders.
Day Two
The second day focuses on the accountability and evaluation role of regulatory board members. The program is designed to include interactive components which will allow attendees to apply the concepts to their own experiences.
Currently, this program is offered in person; however CLEAR is developing an online, instructor-led version of the course for release in early 2023. Watch out for online offerings in our event calendar!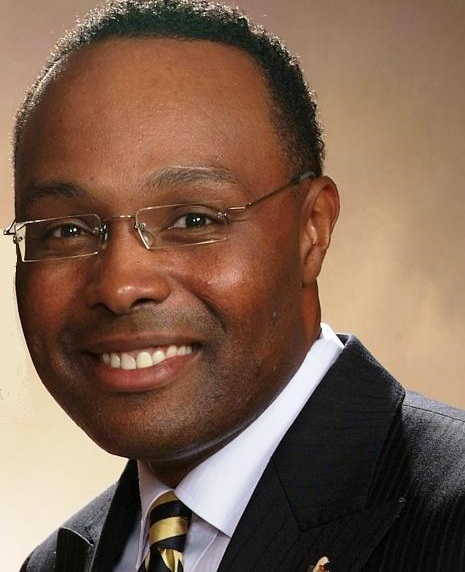 "The CLEAR Online program has significantly enhanced our orientation process for the nearly 300 board members of the division's thirty-four boards and commissions. The online format is conducive to busy volunteers by allowing them to engage in the training when and where it is convenient for them. Content wise, the training is comprehensive and provides a great knowledge base that enables board members to quickly and appropriately fulfill their public protection role. Thanks CLEAR!"
—James Collins, Chief Information Officer, Delaware