Back to Events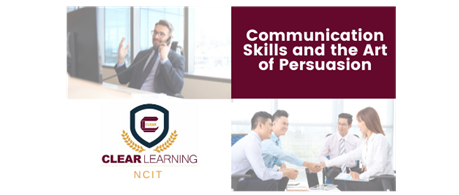 Communication Skills and the Art of Persuasion
Communication Skills and the Art of Persuasion - Virtual Program
Thursday, February 1, 2024
* Registration open until 2/1/24 at 12:00 AM (EST)
Event Details
The ability to communicate effectively is a key component of being a successful investigator.

Effective communication involves conveying your thoughts and positions to others as clearly, concisely, and unambiguously as possible and in turn receiving information that others are providing to you with as little distortion and misunderstanding as possible. Good communication skills can serve to improve operational efficiency and productivity in the workplace and increase the confidence level of employees. On the other hand, poor communication skills may cause message interpretation or misunderstanding and lead to roadblocks in getting desired information.
This session will introduce participants to key components for effective communication including preparation and delivery techniques, the use of language and physicality to get your point across, listening skills, and the use of presentation aids.
For more information on CLEAR's Third Tier Programming, please click HERE.
For More Information:
Hannah Fletcher
Membership Coordinator
(859)309-4733
This is a virtual program offering. Program login information will be sent to each attendee by April 20, 2023.

Program participants will receive an eBook for this program. Each person will be able to print out the program manual or save it to your desktop to review.
CLEAR Cancellation Policy
Registrant substitutions are welcome. Cancellations are subject to a $65 US service charge and will be subtracted from any refunds. Cancelations received less than two weeks prior to the program, will be subject to the full registration fee and no refunds or credits will be given.