Back to Events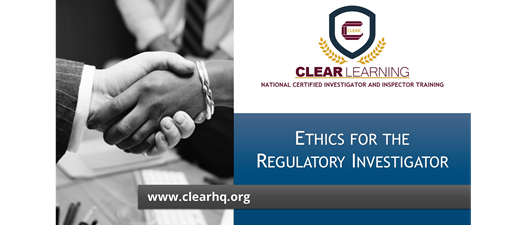 Developing a Professional Attitude: Ethics for the Regulatory Investigator
Ethics for the Regulatory Investigator - Virtual Program
Tuesday, February 6, 2024
* Registration open until 2/6/24 at 12:00 AM (EST)
Event Details
Investigators are called upon to apply professional judgment to ever-changing factual situations as they perform their duties. These discretionary decisions coupled with the authority possessed by an investigator during the investigatory stage can have very real consequences for all parties involved including the regulant, the department or agency the investigator represents, and the investigator. There is a need to ensure that the investigator understands the importance of maintaining high ethical standards in carrying out his or her duties including the exercise of professional judgment. This course is designed to provide students with an advanced understanding of guidelines for ethical behavior as a regulatory investigator.
The course will (i) review models for professional conduct and behavior by examining ethical standards established by statute or governmental policy and professional ethical standards, (ii) explore the concepts of conflict of interests and scope of liability as they relate to public employment in general and the work of the investigator in specific, and (iii) consider practical applications of ethical dilemmas through case studies and scenarios.
For more information on CLEAR's Third Tier Programming, please click HERE.
For More Information:
Hannah Fletcher
Membership Coordinator
(859)309-4733
This is a virtual program offering. Program login information will be sent to each attendee a week prior to the program.

Program participants will receive an eBook for this program. Each person will be able to print out the program manual or save it to your desktop to review.
CLEAR Cancellation Policy
Registrant substitutions are welcome. Cancellations are subject to a $65 US service charge and will be subtracted from any refunds. Cancelations received less than two weeks prior to the program, will be subject to the full registration fee and no refunds or credits will be given.