Back to Events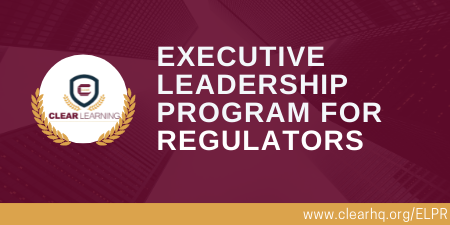 Executive Leadership Program for Regulators - Salt Lake City, UT
This program is in conjunction with CLEARs Annual Educational Conference
Monday, September 25, 2023
at
8:30 AM (MDT)
to Wednesday, September 27, 2023 at 4:30 PM (MDT)
Event Details
The Executive Leadership Program for Regulators is a comprehensive three-day workshop covering a broad array of topics.
We discuss issues and problems associated with Creating a Positive Public Relations Program (what is the message, who is the audience, when to build media partnerships, and how to manage the medium and the message), Creating an Appropriate Relationship with the Stakeholders and Mastering the Art of Negotiation (importance of credibility, developing negotiation skills, and learning the variables that influence regulation), identifying and understanding the numerous types and styles of Regulatory Leadership, and Organizational Culture and Change.
Prior to the program, attendees will be asked to complete a brief survey so that the instructors can tailor the program to the specific needs and interests of those participating. Attendees will participate in various role-playing activities, scenarios, group-work, and discussion. In the course materials, attendees will find several valuable worksheets and checklists that they can take away and apply in their agencies and organizations.
Who should attend?
The course content is directly relevant to those in a regulatory leadership position at any level of experience. The course is also useful for marketing/communication personnel, legislators, board members, and legal counsel.
This program is offered in conjunction with CLEAR's Annual Educational Conference
Download Agenda
For More Information:
Hannah Fletcher
Membership Coordinator
(859)309-4733
Training Location:
Hyatt Regency Salt Lake City
170 South West Temple
Salt Lake City, UT

We have arranged for a preferred rate of $239 a night plus taxes. Please use the link below to book your hotel room. The preferred rate will be available until September 01, 2023

HOTEL BOOKING LINK

CLEAR Cancellation Policy
Registrant substitutions are welcome. Cancellations must be received in writing by August 07, 2023 to receive a full refund. After that date, a $95 US service charge will be subtracted from refunds. Cancellations received after September 08, 2023 are subject to the full registration fee. No refunds will be given after September 08, 2023.


After registration, attendees will receive a welcome email one week prior to the start date of the program. CLEAR is moving to a Green initiative and using eBooks for our CLEAR Learning programs. Participants will be able to order a physical book for an additional fee.