Back to Events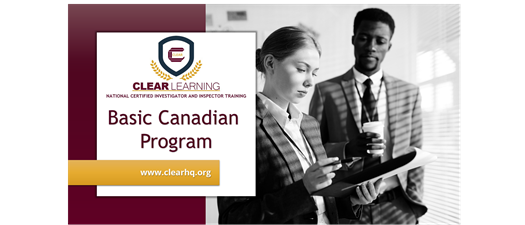 Online National Certified Investigator/Inspector Training (NCIT) CAN
ENCIT Basic Program - December 2023 - Canadian Content - Virtual Program
Thursday, December 7, 2023
to Wednesday, December 20, 2023
* Registration open until 12/7/23 at 12:00 AM (EST)
Event Details
CLEAR's NCIT Online Basic program is offered through a combination of self-paced modules and live instruction through our virtual training platform. This program is facilitated using CLEAR's Canadian content.
Download Agenda
For More Information:
Hannah Fletcher
Membership Coordinator
(859)309-4733
After registration, attendees will receive a welcome email one week prior to the start date of the program. CLEAR is moving to a Green initiative and using eBooks for our virtual CLEAR Learning programs. Participants will be able to order a physical book for an additional fee.
Full program information and timeline will be emailed to registered attendees. This program will be delivered over a two-week period.

Technical Requirements:
Before registering for this program, please make sure that the desktop/laptop/mobile device that you plan to use for this program can operate with the requirements HERE. If you register and you are not able to participate due to a lack of the requirements, CLEAR does not offer refunds for the program.
CLEAR Cancellation Policy
Registrant substitutions are welcome. Cancellations are subject to a $95 US service charge and will be subtracted from any refunds. Cancelations received less than two weeks prior to the program, will be subject to the full registration fee and no refunds or credits will be given.