Back to Events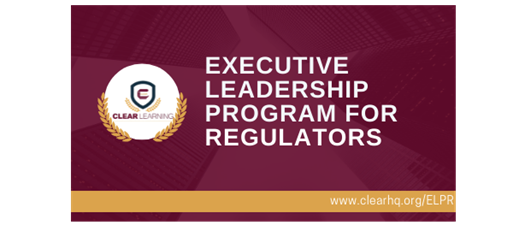 Virtual Executive Leadership Program for Regulators - November 2023
Thursday, November 2, 2023
to Monday, November 13, 2023
* Registration open until 11/2/23 at 12:00 AM (EST)
Event Details
The Executive Leadership Program for Regulators is the premier source of leadership training for regulators worldwide. This virtual program is a comprehensive one-week class, offering self-paced content and live instructor-led sessions, where attendees participate in role-playing activities, scenarios, groupwork and discussions on relevant topics.
We discuss strategies for Creating a Positive Regulatory Reputation Through Public Outreach and Relations, (what is the message, who is the audience, when to build media partnerships, and how to manage the medium and the message), Creating an Appropriate Relationship with the Stakeholders and Mastering the Art of Negotiation (importance of credibility, developing negotiation skills, and learning the variables that influence regulation), identifying and understanding the numerous types and styles of Regulatory Leadership, and Organizational Culture and Change.

Course materials include access to CLEAR's online learning platform, valuable worksheets and checklists that can apply to everyday issues in regulatory agencies and organizations. Make sure you have the practical tools and insight needed to be an effective leader for your regulatory organization!
Download Agenda
For More Information:
Hannah Fletcher
Membership Coordinator
(859)309-4733
Who should attend?
The course content is directly relevant to those in a regulatory leadership position at any level of experience. The course is also useful for marketing/communication personnel, legislators, board members, and legal counsel.

All instructor led sessions will be delivered using the Zoom platform. The welcome session on November 02, 2023 is an optional session; however we do recommend attendees join the session.
CLEAR Cancellation Policy
Registrant substitutions are welcome. A $95 US service charge will be subtracted from any cancellations after registration. Cancellations received two weeks prior to the program start date are subject to the full registration fee.